FRISCO STYLE MAGAZINE ARTICLE:
03 Sep 14:03 , Published by Ben, Categories:  In Print Community Family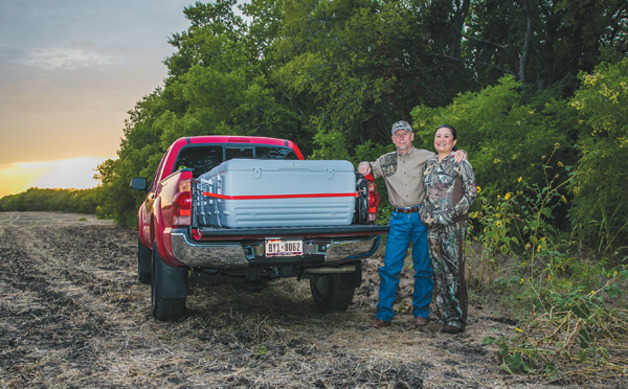 by Maria Leahey
Frisco resident John Wilton remembers a childhood far removed from the bustling city Frisco has become. He grew up on his family's 100 acres, which was right next to his grandmother's 100 acres — a big playground. Passing on enduring lessons, such as gun safety, Mr. Wilton's dad taught him many valuable lessons. "He taught me that hunters should only shoot what they are prepared to eat," said Mr. Wilton. "Hunted meat should not go to waste."
In 2012, with few opportunities to hunt but time to think about doing the right thing, Mr. Wilton discovered three facts that have driven him for the past two years. Fact number one: Deer in large numbers are a hindrance. Texas Parks and Wildlife conduct deer surveys and issue MLDP (Managed Land Deer Permits) to individual hunters and game ranches in a coordinated effort to manage the herd's size compared to what the land can support. "Texas has a population of three to four million deer," Mr. Wilton summarizes. "We have an abundance of deer."
Fact number two: Sometimes, hunters will donate deer at the processor because they are still working on consuming the venison in the freezer from last year's hunt, or they already know one deer is more than their family can eat in a year. "Hunters are generous people. A big part of hunting is sharing the meat," notes Mr. Wilton. Hunters bear the cost of processing donated deer.
Fact number three: On the other end of the food provision spectrum, food insecurity rates in North Texas are high. Many people go hungry or worry about going hungry on a daily basis. "Food insecurity means not having access at all times to enough food to maintain an active, healthy life," notes Elizabeth Liser, North Texas Food Bank director of corporate engagement. "And it now affects nearly one in six adults and one in four children in our 13-county service area, including Frisco."
Ms. Liser explains that people who are experiencing food insecurity are at a serious health risk, especially children. "Quality of food plays a huge role in the issue of hunger because eating well can be expensive," she states. "Protein is a key element to maintaining a balanced diet." To Mr. Wilton and his wife, Josielyn, the conclusion from these three facts was stark: The potential to feed hungry Texans with donated venison is enormous.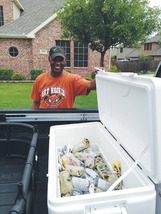 "Texas has more deer than any other state and we have a half-million hunters in it!" exclaims Mr. Wilton. "We need to do some resource redirection to fill this need. I believe when we make it easy and affordable for hunters to donate venison, the amount of meat donated will skyrocket!" Mr. Wilton and his wife promptly acted on their idea and were granted 501(c) 3 status in March 2013 for their new non-profit: Hunters For Good, Inc. (HFG).
"From there, it's been all about learning as we go," grins Mr. Wilton. It has also been about making due with what they have. "This has been a bootstrap endeavor from the start."
The vision of Hunters For Good, Inc. is to develop an active venison donation program that works with deer processors to provide individual hunters and managed game ranches no cost processing of donated venison. Through donations to HFG, the processing fees and the donations to food pantries would come at no cost to the hunters or the organizations that feed those in need.
Two months after its 501(c) 3 was granted, on May 16, HFG completed its first sizable donation. Clear Fork Country Outfitters in Graham donated its unclaimed venison: 425 pounds of pure protein.
"Clear Fork Country is proud to contribute to Hunters for Good," says Manager Jeromy Watkins. "For years we have given our donated venison to local churches and charities. With the addition of Hunters for Good, we are able to contribute more broadly to people in need outside of our immediate area. We look forward to working with them for many years to come."
To get the venison from Graham to recipients in South Dallas, the HFG board – a small band of five – needed coolers for their pickups to better transport the meat. R.L. Gray Community Development Outreach, Inc. stepped in and helped to buy large coolers for the processed venison. "These coolers were so big that only four fit on the back of the truck," notes Mr. Wilton, explaining they hope these coolers get a lot of use. After loading the meat into coolers, the HFG team took it to two Dallas area churches: True Lee Missionary Baptist Church and Cornerstone Baptist Church. From there, the high-protein meat went immediately into the community.
For True Lee Baptist Church, 200 pounds of venison was distributed to 100 families who were identified to be in need. The church has a 70-year history of serving the low-income urban community of Fair Park and South Dallas. "This was a great opportunity for True Lee Baptist to introduce families in need to healthy venison, a resource which is sorely needed in this community," explains HFG board member Linda Gray, a consultant with 20 years of experience in non-profit start-ups and non-profit management.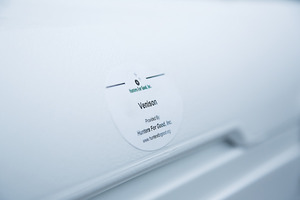 HFG's donation of 225 pounds of venison also fed approximately 250 individuals at "The Kitchen," the food ministry of Cornerstone Baptist Church near MLK Boulevard in south Dallas. The Kitchen provides eight meals a week (6,000 meals a month) to area homeless. When the cooks received the HFG donation, they knew exactly what to do with it — they have been receiving occasional donations of venison for 10 years — and they set about making it into spaghetti. "Meat is such a big part of our food budget," says Cornerstone's Lead Pastor Chris L. Simmons, "Donations of venison and any meat are very beneficial. We put it in dishes that stretch it out so we can serve hundreds of people with it." Cornerstone Baptist Church is able to store and freeze large donations, but the church team usually uses the meat right away. The church also has transitional housing, a clothes closet, shower facilities and job training programs in addition to providing meals from The Kitchen.
For the team at HFG, their hope is to continue donations such as these and to spur other communities to do the same. "This is a pilot program so it can be replicated elsewhere," says Mr. Wilton. Talks have begun with North Texas Food Bank (NTFB) to provide them with venison donations. "Protein is like gold to food banks," notes Mr. Wilton. "It is on the top of their list and this venison will not go to waste."
NTFB agrees, seeing venison donation as valuable. "Venison is a perfect example of high-quality, high-protein food that will help enrich the meals people eat and the lives that they lead," comments Ms. Liser. "After John explained the concept of the program, I knew it would be worth our while to explore possible partnership opportunities."
The North Texas Food Bank passionately pursues a hunger-free community. As part of its current three-year strategic plan called ReThink Hunger, the organization keeps a strong focus on nutrition and on providing healthier meals to the children, families and seniors. "Any opportunity we have to help connect the food provided by generous organizations like HFG with the hungry we serve all across North Texas is an opportunity worth working for," states Ms. Liser. For those unfamiliar with venison, what's great about eating it? "I love it," notes Mr. Wilton. "There's venison chili, Kentucky-fried venison … there's just about a bazillion ways to fix it."
HFG Board Member Linda Gray is also a fan. "Our family's favorite is the backstrap, which is known as the prime steak of venison," she smiles. "My husband's favorite recipe is deer chili and mine is deer enchiladas"
"In our ministry for the homeless called The Kitchen, we make donated venison into dishes like spaghetti, chili, stew or goulash," says Pastor Simmons of Cornerstone Baptist. He chuckles and continues, "And our cooks are good at it, adding a little of that Louisiana flavor, but I don't think they can tell you the recipe except a little bit of this and a little more of that."
Mr. Wilton also laughs when he's asked about recipes. Hunters For Good is trying to solicit venison recipes for a cookbook, he explains, and while there are many recipes out there – some even include a marinade of Texas' iconic soft drink Dr Pepper — there are not many submissions to the cookbook. "The hard part is getting people to part with their family recipes; they hold those pretty close to the chest," he says.
When talk turns to funding, Mr. Wilton gets serious for a moment. "Hunters For Good is definitely a bootstrap operation. We only take on what we can afford, based on donations. We need funding to do anything on any kind of scale at all."
Community Foundation of Texas accepted Hunters For Good into its DonorBridge, an online means of accepting donations. September 19 will be "Giving Day," a day when some companies and employers match donations. "Giving Day would be a good day to give," notes Mr. Wilton.
HFG donations offset the cost of processing. While the weight of each deer varies, a deer typically yields 50 pounds of processed venison, approximately 200 servings. An HFG contribution of $40 will often cover the processing of 50 pounds of venison. Donations also help HFG with its wish list; topping the list are trailers with mounted coolers and a freezer for transporting venison from the processors to the food banks and churches.
"We are going to get there," says Mr. Wilton of HFG's mission to feed hungry Texans. "We've had much encouragement so far, if not the money. Our mission has much potential."
Tax-deductible donations can be made  to: Hunters For Good, Inc., PO Box 1507, Frisco, TX 75034.
For more information on Hunters for Good, Inc. and how you can get involved, please visit www.huntersforgood.org/
Maria Leahey is an omnivorous Frisco-based freelance writer who has never developed a winning chili recipe.
Please click "DONATE" to make an online monetary contribution or click the "CONTACT US" button to find out about other ways you can help.